As the founder or an executive of a young and growing company (Tech Startup, SME, Subsidiary of an international company, etc.) you're probably at a stage where your internal control processes are still being set up and are not yet fully established. Your focus is on growing your business, making your customers happy, paying your employees on time…
Still! To future-proof your company you should start upgrading your internal controls now. And improving your bank reconciliation process is a very good way to start. 
Don't be fooled by its boring name! With the right bookkeeping and accounting tools, this can actually be pretty fun - and swift - to do so!
Few adjustments in your finance set-up will allow you to go from a non-existent/occasional/traditional/manual bank recon process to a systematic and automated process! This will help you have a better view of your performances and make better business decisions. 
What exactly is bank recon and why does it matter?

Bank reconciliation is the essential - yet often overlooked - process of matching your bank account(s) balance(s) in your company's accounting records to the corresponding information on your bank statement(s). 
Simply said, if your bank statement shows an ending balance of 5,500 USD as of December 31st, 2020, your Cash in Bank Account (Balance Sheet) should also show a 5,500 USD balance (or the equivalent amount in your reporting currency for example 5,500 USD x 48.1827 = 265 004.85 PHP if your company is incorporated in the Philippines or 5,500 USD x 0.8149 = 4 481.95 EUR in France). 
This looks pretty easy, right? It actually is but this can also be a very lingering task since you could have multiple bank accounts and hundreds of transactions every month! 
I have seen a lot of companies not monitoring this properly and arriving at the end of the year with HUGE discrepancies, losing a lot of time going through their records of the year when they should focus on improving their product(s) and/or service(s) and plan their year ahead.
Upgrading your bank recon process will bring great benefits to your company including:
having an accurate view of the financial position of your company by validating the completeness of your records, detecting and adjusting errors.

managing your cash flow accurately by understanding - and improving - the way your cash goes in and out. 

detecting fraud by strictly controlling the money that goes in and out from your transactions with suppliers, business partners, employees, etc.

detecting bank errors by checking their fees on a regular basis. 


What is the best way to do bank reconciliation?

    1. Stick to a regular schedule
When deciding how often your bank reconciliation has to be done (daily? weekly? monthly?), you should consider your volume of transactions and how often you have cash-in and cash-out transactions. If you have a business with multiple transactions every day - an online store or a restaurant for example - you should consider reconciling on a daily basis.
Once you have your schedule the golden bank recon rule is to make it a priority to stick to your deadlines!
    2. Understand why your Cash Account (in your books) and the bank statement (from the bank) do not match!
Don't panic if your bank reconciliation shows a difference between your books and the bank statement! They will most of the time not match perfectly, and this can be due to one of the following reasons: 
service charges or bank fees: you will see these in your bank statement and are most of the time missing in your books

outstanding deposit: these are the deposits that are already recorded in your books but not yet deposited/processed in the bank

outstanding check or transfer: these are the checks or the bank transfers issued and recorded in your books but not yet processed by the bank.

bank error: these are errors made by the bank and usually being corrected by the bank consequently.

book error: these are errors wherein a specific transaction recorded in books differs from what was reflected in the bank statement. Usually, they are due to human error.


    3. Finalize your bank reconciliation
After matching all transactions and eventually identifying why your books and bank statements don't match, you can record them by adjusting journal entries.
Once this is done,  your bank reconciliation is complete and can be validated. This is proof that your accounts have been properly reconciled.
    4. Use a cloud-based accounting system to streamline your bank recon process
Your overall bank reconciliation process can be greatly simplified and automated by the use of a cloud-based accounting system.
Connecting your bank account (using Odoo accounting):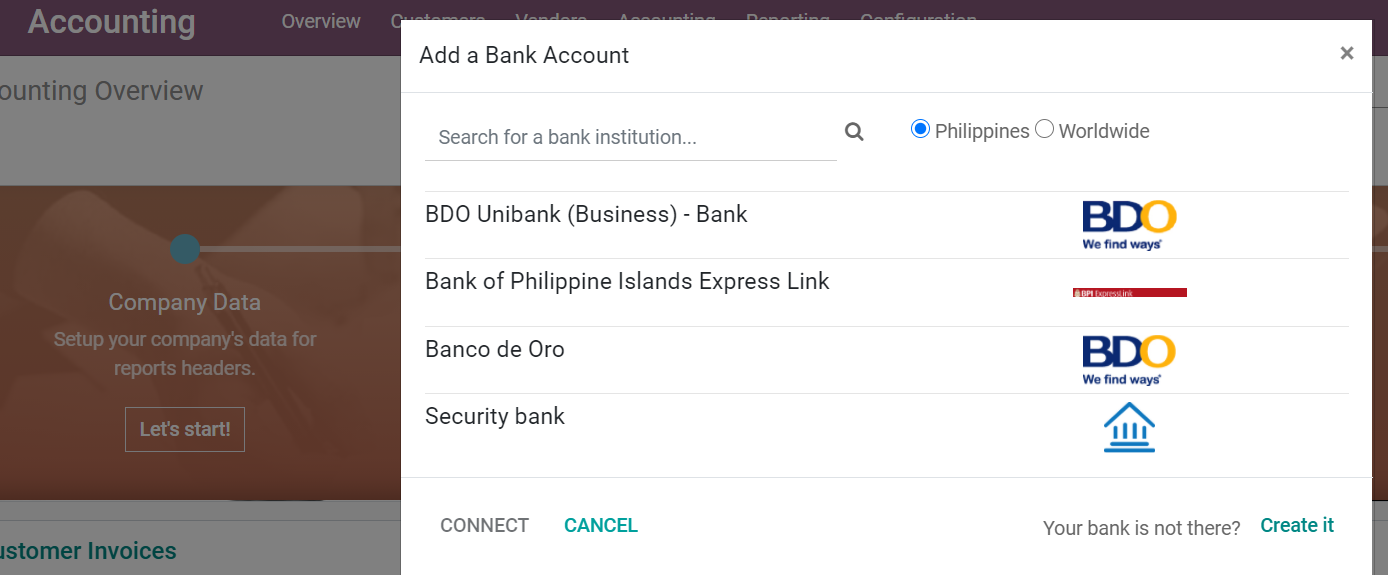 Matching the records (using Odoo accounting):

Adding a missing entry in your books (using Odoo accounting):
And you are done!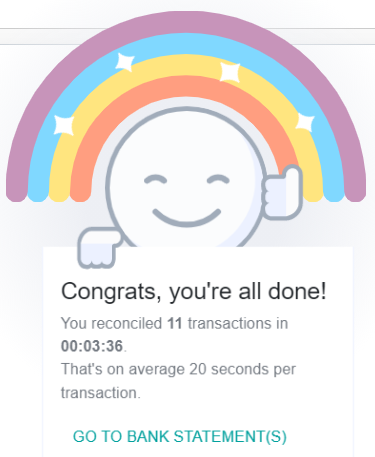 Proseso Consulting - Your digital accounting and finance consultant focusing on growth


For more information on bank reconciliation or if you have any questions you may contact me directly at ninoy@proseso-consulting.com.
Proseso Consulting provides tailored business advisory and finances managed services (bookkeeping and accounting, outsourced and automated payroll, tax compliance, financial reporting, etc.). We are implemented in the Philippines and in France and our objective is to support the projects of ambitious companies and professionals. We are here to help you achieve your long-term business goals!
Ninoy Salmon is a seasoned business and finance professional with extensive experience working with both fast-growing startups and companies in the Philippines and around the world.
Get in touch with our team at contact@proseso-consulting.com or visit us at www.proseso-consulting.com for more information about our services.
 This blog article does not constitute professional or legal advice. It is only intended to provide general information on a subject.